✓ Free shipping ✓ 30 days trial ✓ 2 years warranty
0% financing: from 66.58 € per month **
For perfectly tuned sound
MAESTRO
1.499 €
At a glance: this is what PLATINUM SE offers you
AUDIO QUALITY
The Nagaoka MP-110 pickup and integrated preamp provide clear and precise sound.

DIVERSE CONNECTION OPTIONS
Analogue and digital connection options (integrated phono preamplifier, cinch connection, USB and Bluetooth).

WIRELESS FLEXIBILITY THANKS TO BLUETOOTH
Flexible choice of location thanks to Bluetooth.
DIGITISATION OF YOUR RECORD COLLECTION
Simply connect it to a PC or laptop via USB and digitally archive your own record collection.
DESIGN TO FALL IN LOVE WITH
Housing with high-quality matt lacquer finish and cast aluminium platter with cork coating.

GERMAN ENGINEERING
Bring the highest sound quality, uncomplicated operation and timeless design into your home - developed in Neuss, Germany.

A master of his class
It's the details that make a good turntable a better one. This is also the case with the PLATINUM SE. It has all the advantages of the PLATINUM, such as its versatility and excellent stability. In addition, there are small but fine optimisations, such as a heavier, resonance-damped turntable for better stability, a double-bearing tonearm, the cork pad and the high-quality Nagaoka cartridge.

LISTEN TO AND FEEL MUSIC
Do you want to rediscover your old home record collection or dive into the wonderful world of vinyl anew? We have just the thing for you - our modern PLATINUM SE record player. It provides the visual, haptic and acoustic experience that only records can offer.
MODERN TECHNOLOGY
Precise elements ensure a clear sound. Belt drive, DC motor, height-adjustable tonearm with two low-friction precision bearings, headshell and the Nagaoka MP-110 cartridge interlock in a balanced way. The heavy, resonance-damped cast aluminium platter with cork layer reduces vibrations.
FLEXIBLE USE
No matter what audio equipment you have at home...we claim that the PLATINUM SE can connect to it. Its analogue and digital connection options (integrated phono preamplifier, RCA connection, USB and Bluetooth) distinguish it as a true wonder of versatility. Thanks to wireless connection via Bluetooth, you are flexible in your choice of location.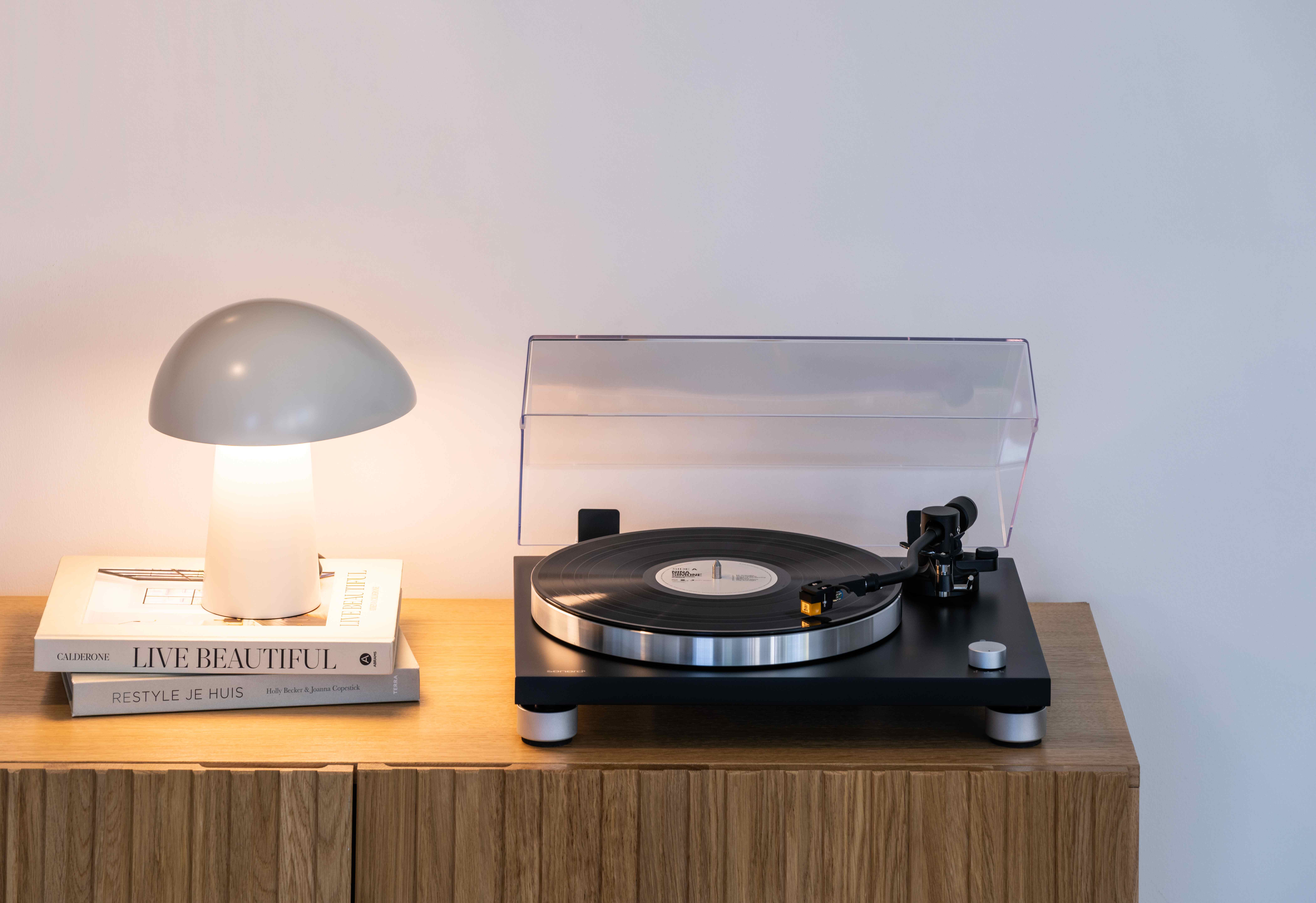 EXPERIENCE MUSIC WITH THE HIFI SET
The MAESTRO all-in-one hi-fi receiver and the ORCHESTRA 2-way bass reflex loudspeakers have been awarded renowned prizes and very good test results for their design and sound quality. The GRAND ORCHESTRA floorstanding speakers are also convincing. The PLATINUM SE record player rounds off the hi-fi package and fits perfectly into the ensemble. Of course, the PLATINUM SE with its versatile connections harmonises with almost all matching compact hi-fi systems, stereo full amplifiers or surround receivers.
Technical information on the PLATINUM SE
What our customers say about PLATINUM SE
Trust the numerous reviews of our satisfied customers.
Effective annual interest rate of 0.00% for a term of 12 months corresponds to the borrowing rate of 0.00% p.a.. Creditworthiness required. Partner is Santander Consumer Bank AG. The stated rate refers to the most favourable product variant. The total costs and monthly instalments for special editions (e.g. special colour walnut) may differ.