Iconic design by Dieter Braun and sonoro
November 2022
Just in time for Christmas, we are delighted to announce an exciting partnership with one of our favorite artists. Together with Dieter Braun, we have created a beautifully designed and limited edition "Dieter Braun Iconic Cover Art Coaster Set" for a special promotion. This set is now available until the end of the year and while stocks last with the purchase of sonoro promotional products from the Roomworld living room at our participating premium partners in stationary retail. In an interview with Dieter Braun, we talk to him about his work.
sonoro design philosophy  
For us at sonoro, one thing in particular is always at the forefront during the development of our audio systems: people for whom music is just as important as it is for us. We believe that audio should not only be heard, but experienced in all its facets - with all the senses. A special design contributes to the pleasure just as much as a well-balanced sound image. Our understanding of design is characterized by clear lines, reduced optics, strong user-centeredness through intuitive ease of use.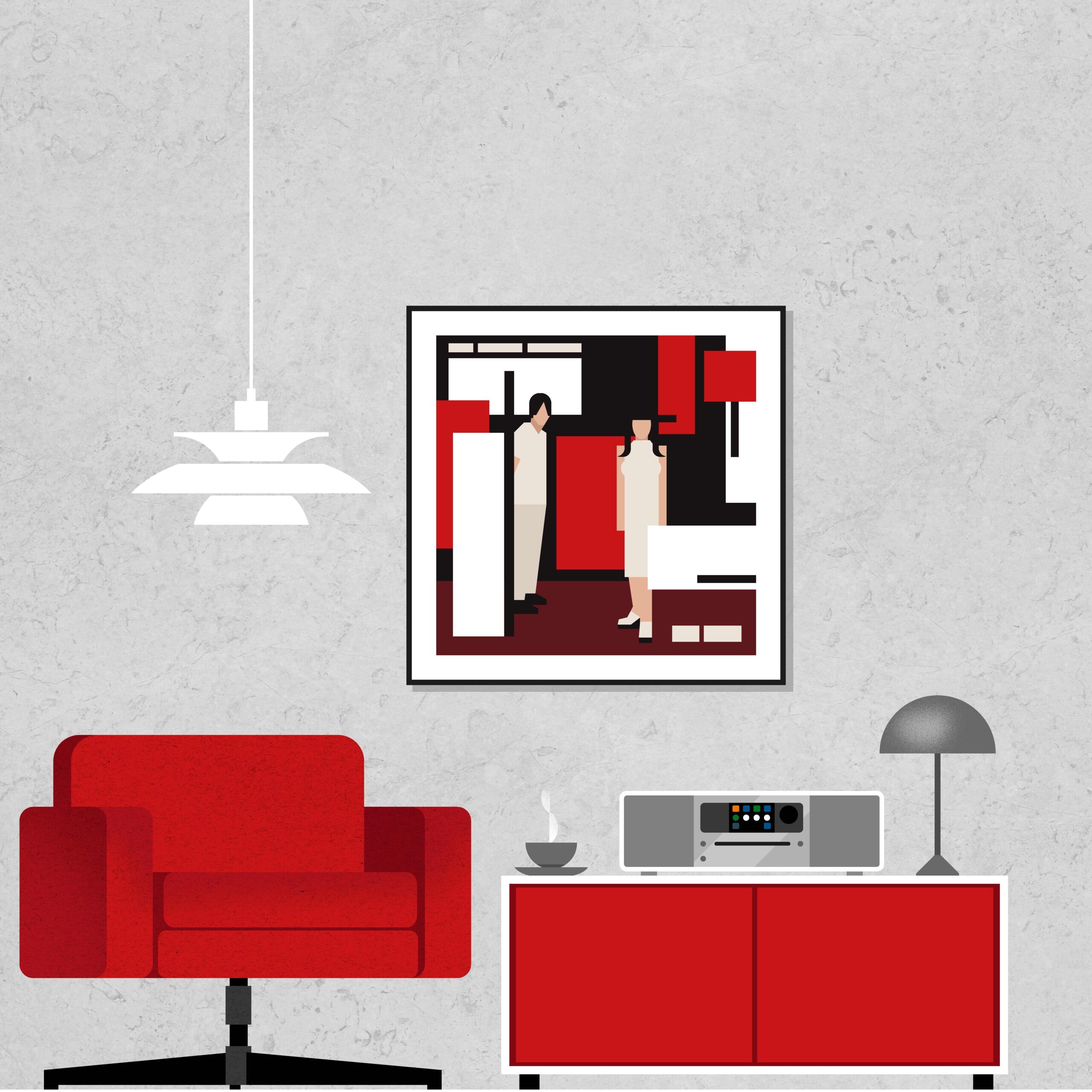 Dieter Braun Iconic Cover Art
This design philosophy of complexity reduction is also lived by the Hamburg artist Dieter Braun. The successful illustrator and author Dieter Braun has been fascinated by Africa and its wildlife since childhood. Thanks to numerous trips, he later got up close to lions and co. himself and captures what he has experienced in colorful vector drawings. Here, the motifs dissolve into geometry and are reduced to the essentials.
The all-round artist, who illustrates for the New York Times, stern, GEO or the Wallstreet Journal and writes his own children's books, also has another passion: music and iconic record cover motifs. As an avid vinyl collector, he has designed and interpreted well-known covers in his own style.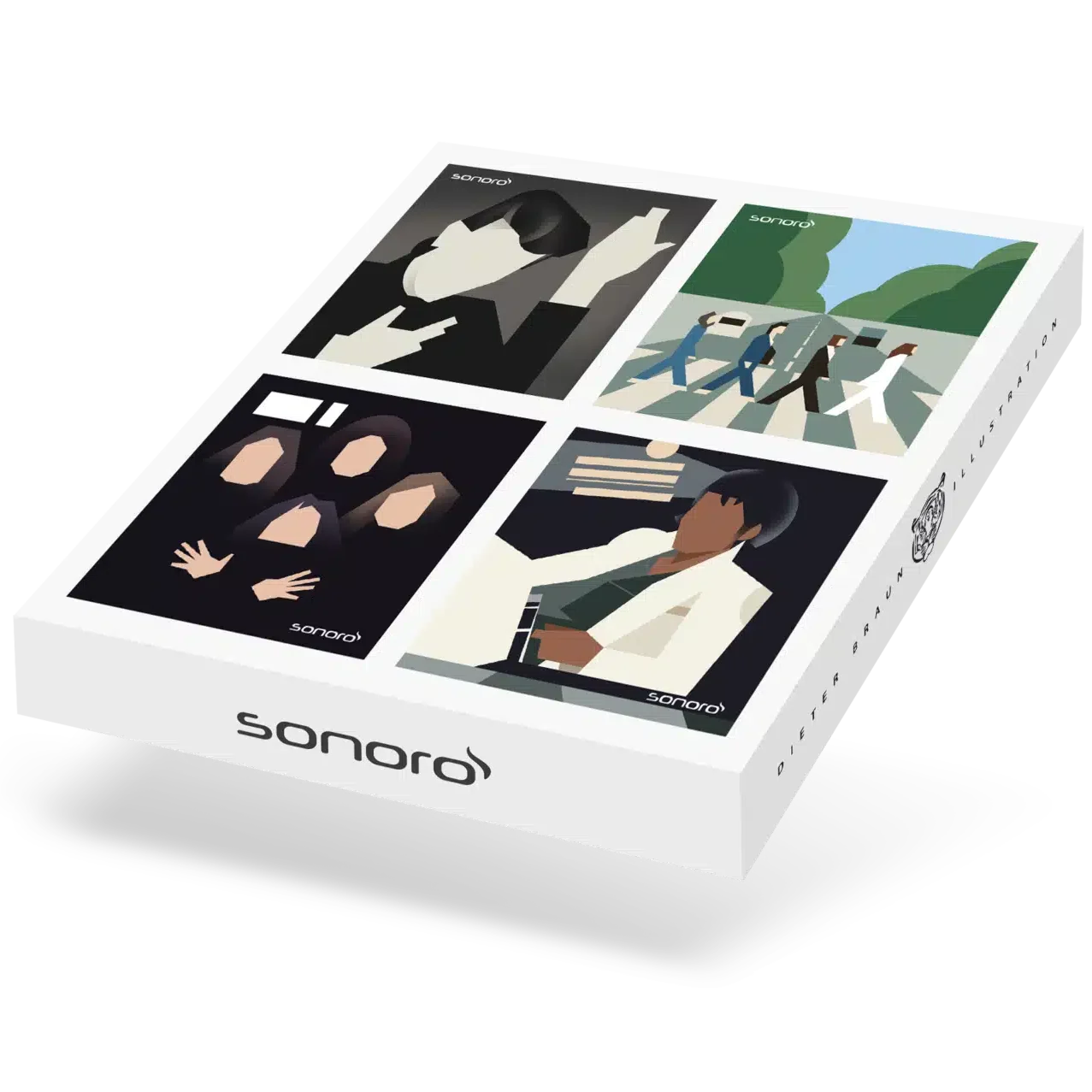 So since we, Dieter Braun and the sonoro team, share the same passion for the topics of design and music, we joined forces without further ado. At our big appearance at the HighEnd in May this year, we decorated our booth with his iconic record covers. This went down so well with the visitors that we now want to give our customers the opportunity to get their hands on some of these covers. For this purpose, we have designed a limited "Dieter Braun Iconic Cover Art Coaster Set", which buyers will receive exclusively at participating sonoro Premium Partners with every promotional product as an extra.
When purchasing a promotional product (MAESTRO, ORCHESTRA SOUND SPEAKER SERIES, PLATINUM PLATTENSPIELER SERIES, MEISTERSTÜCK, PRESTIGE and PRIMUS) in the period from 01.11.2022 - 31.12.2022, our customers will receive one of the high-quality coaster sets free of charge.
At the same time, we took the opportunity to have our audio systems displayed by Dieter Braun in his style. And what can we say, we are thrilled.
If you would like to know more about Dieter Braun, you can visit his website at www.brauntown.com or read on right now. In the interview Dieter Braun tells us about his love for music and design.
INTERVIEW DIETER BRAUN
What does the connection between design and music mean to you?
I grew up with records. The covers captivated me from an early age and brought me closer to the greatest music. I have also always been fascinated by the look of the players. Design and music have always been one for me.
What role does music play in your life?
Music has always been there and will always be there. Especially when I work, music carries me from the morning until the end of the day.
What kind of music do you like to listen to the most? Is there an all time favorite album for you?
Good music is too versatile to focus on just one genre. I let myself be carried through the music world by Indi, Electro, Dub, Jazz or Postpunk and Hiphop. There is no favorite album, but most listened to is probably 'Three Imaginary Boys' by The Cure, or 'Felt Mountain' by Goldfrapp.
How and where do you prefer to listen to music? Do you maybe even have a sonoro product? 😉
In the studio, my studio colleagues have to put up with my daily DJ set. That's practically a recording requirement for us. But I'm gracious and only listen to my old hardcore records when I'm alone. Most of the vinyl collection is also in the studio. I listen to music more consciously at home. The driving force there is the sonoro Maestro.
Does music play a role in your creative process?
The music I listen to at work depends on the work process. When I have to concentrate a lot and build image compositions, I tend to listen to quiet, relaxed music. Otherwise, it can also be a bit rappier.
You usually focus on illustrating animals. How did you get into this?
Besides music, nature and animal themes have always been my great passion. Animal documentaries on TV, for example, always go with me. A first trip to Tanzania many years ago then set the ball rolling for my animal books.
What's your design philosophy?
I try to represent complex figures and content, if possible, with the help of simple geometric shapes and reduce them to the bare minimum. Nature is already perfect. I cannot surpass it. I can only interpret its beauty.
What then moved you to also depict record covers in your style?
I'm a collector myself and am often tempted to buy favorite albums that I actually already own. Like me, many other fans would love to hang these albums on their walls. I wanted to transform iconic album covers into minimalist art so that it would also look good on the wall in larger formats.
What is your favorite record cover work so far?
Probably also 'Three Imaginary Boys'. The first motif that I not only created digitally, but also immortalized in acrylic on canvas. And 'Heroes' by Bowie.
Do you have a bucket list of album covers you'd still like to make happen?
I had a list at the beginning. I have now worked through it. But this is an ongoing project. There will always be spontaneous new motifs. And hopefully the book will come at some point.